Wormwood (Artemisia absinthium)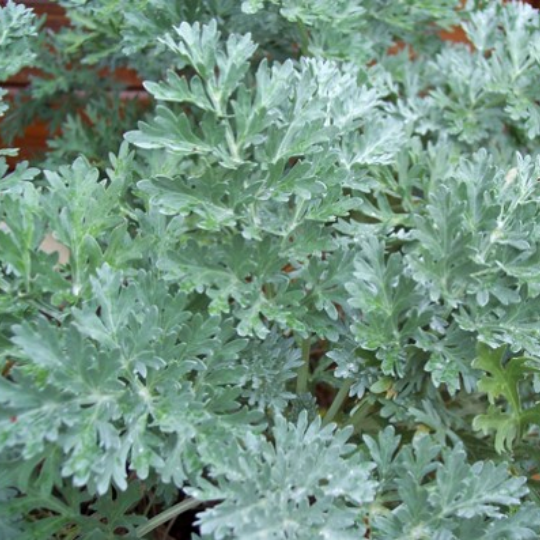 Wormwood (Artemisia absinthium)
This plant with beautiful silvery leaves, also called "Green Fairy", was used to make an alcohol which was, at the time, the muse of Verlaine, Baudelaire, Van Gogh and the Gauguins of this world. At the heart of controversies, fabulous stories and legends, wormwood remains a strong psychotropic to keep discreetly in your garden.*This year, we were unable to harvest wormwood at our farm. These seeds come from the company Jardin Vie-La-Joie

BOTANICAL INFORMATION
Latin name: Artemisia absinthium
Common names: Grande wormwood, Armoir
English: Absinthe, Wormwood
Family: Asteraceae

CULTURAL INFORMATION
Surface sow in mid-April. Do not cover as the seeds need light to germinate. Then transplant outdoors after all risk of frost.

MAINTENANCE AND OTHER CONSIDERATIONS
Short pruning in the spring allows the plant to regenerate, but wormwood tolerates pruning well at all times. Insect repellent properties.
Plant type

:

Perennial
Flower color

:

Yellow
Quantity

:

Envelope of about 75 seeds
Exposure

:

Full sun
Shape

:

Shrub
Soil

:

Well drained
Watering

:

Tolerates drought
Sowing

:

Inside
Plantation

:

In the garden after the risk of frost
Days to maturity

:

2 years
Plant spacing

:

60 cm
Row spacing

:

1 m
Depth

:

On the surface
Width

:

60 cm
Height

:

1 m
Family

:

Asteraceae
RETURN AND EXCHANGE
For the return of a purchased product: if you are not satisfied with your product or if you think there is an error in your order, do not hesitate to contact us at any time by email.