Borage officinalis (Borago officinalis)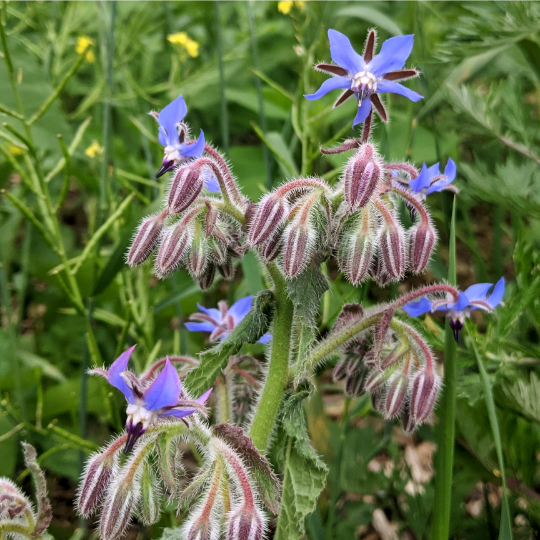 Borage officinalis (Borago officinalis)
Borage is native to southern and central Europe. Easy to grow, melliferous, it requires very little maintenance and will reseed spontaneously in your garden from year to year. Its delicate star-shaped flowers change from purple to sky blue, then to pink before declining. They will delight pollinators and bring color to your garden and your salads! Its seeds are used to make an oil rich in essential fatty acids and some call it "Elixir of Youth" because it contains a large amount of gamma linolenic acid, a rare substance in the plant world.

The vast majority of our seeds are produced on our farm. However, if the cultivation of a variety fails or if it is out of stock, we source from other seed companies to ensure an interesting selection. This is the case for this variety.

BOTANICAL INFORMATION
Latin name: Borago officinalis
Common names: Borage, Borage officinalis
English: Borage
Family: Boraginaceae

MAINTENANCE AND OTHER CONSIDERATIONS
Do not sow after July. It will not have time to produce flowers before the end of the season. After flowering it will reseed spontaneously and will grow back the following year. It is a follower of spontaneous sowing.
Plant type

:

Annual
Flower color

:

Blue
Quantity

:

Envelope of about 20 seeds
Exposure

:

Full sun
Shape

:

Erected
Soil

:

All types of soils
Watering

:

At planting
Sowing

:

Directly in the garden
Days to maturity

:

60 days
Germination

:

10 to 15 days
Plant spacing

:

30 cm
Row spacing

:

30 cm
Depth

:

1 cm
Width

:

30 cm
Height

:

30 cm to 60 cm
Family

:

Boraginaceae
RETURN AND EXCHANGE
For the return of a purchased product: if you are not satisfied with your product or if you think there is an error in your order, do not hesitate to contact us at any time by email.