Lamb's-quarters (Chenopodium album)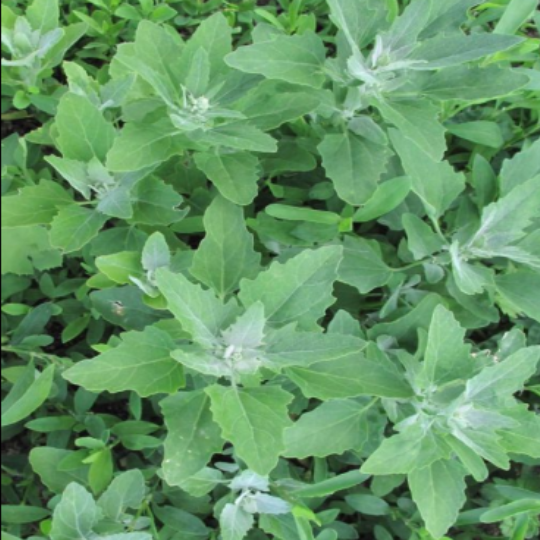 Lamb's-quarters (Chenopodium album)
Lamb's-quarters (Chou gras);Chenopodium album;In Quebec, we always ate it in times of scarcity. When the vegetable cellar was empty, when spring was slow to come, we picked the leaves and the young shoots and made a well-vitamined soup that we called "fat chicken soup". Of course, there was no chicken in there! The honor of the cook was safe.;Edible annual plant of the family Amaranthaceae. Its name refers to the shape of its crow's feet leaves. Slowly, it colonizes wasteland, vegetable gardens, fields, continents. We find it everywhere. However, this weed has many virtues. Very rich in calcium, protein, vitamins A, B and C, phosphorus and iron. The leaves and young shoots are eaten. However, like spinach, this plant contains a high level of oxalic acid. We will therefore refrain from putting it on the menu every day. The seeds are edible but always in moderation, because of the saponins they contain.;It freezes well and can be cooked with all sauces. To discover in pesto or in soup.;Also called fat cabbage, this plant is at the origin of the expression "to throw its fat cabbage", which means to waste its wealth. Very stupid the one who throws his fat cabbage.

BOTANICAL INFORMATION
Latin name: Chenopodium album
Common names: Lamb's-quarters, Ansérine blanche, Fatty chicken, Fatty cabbage
English: Lamb's quarters, Melde, Goosefoot, Fat-hen
Family: Amaranthaceae

MAINTENANCE AND OTHER CONSIDERATIONS:
Does not require fertilization. Harvest mature flowers regularly as the plant can quickly become invasive. If you wish to harvest the seeds, harvest the stems just before the seeds brown and let them dry on a tray.
Plant type

:

Annual
Flower color

:

White
Quantity

:

Envelope of about 100 seeds
Exposure

:

Half shade
Shape

:

Bushy
Soil

:

All types of soils
Watering

:

If needed
Sowing

:

Directly in the garden
Germination

:

2 to 5 weeks
Plant spacing

:

On the fly
Depth

:

On the surface
Width

:

40 cm to 60 cm
Height

:

30 cm to 1,4 m
Color

:

Green
Family

:

Amaranthaceae
RETURN AND EXCHANGE
For the return of a purchased product: if you are not satisfied with your product or if you think there is an error in your order, do not hesitate to contact us at any time by email.