Greater plantain (Plantago major)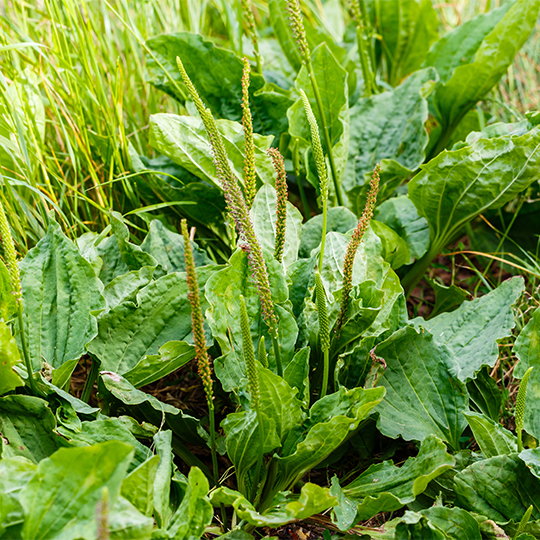 Greater plantain (Plantago major)
Greater plantain;Plantago major;Plantaginaceae;Medicinal plant. Its virtues have been recognized since Antiquity, in the East as well as in the West. In North America, it spread with European settlers. Native Americans nicknamed this plant "white man's foot", because it grew wherever it trod the ground.;Plantain has anti-inflammatory and antibacterial properties. It is used to treat wounds, skin irritations, inflammation of the respiratory tract and mucous membranes, rheumatism, constipation. In general, the great plantain purifies the body.;The fresh leaves of the plantain, washed, can be applied as a poultice to the skin or ingested in the form of an infusion and mother tincture. Very nutritious, they can also be eaten raw in salads, or cooked when they are tougher.

BOTANICAL INFORMATION
Latin name: Plantago major
Common names: Great plantain, big plantain, major plantain, bird plantain.
English: Broadleaf plantain, white man's foot, greater plantain
Family: Plantaginaceae

CAUTION, plantain can be invasive.

Plant type

:

Annual
Quantity

:

Envelope of about 200 seeds
Exposure

:

Half shade
Shape

:

In rosette
Soil

:

All types of soils
Watering

:

Tolerates drought
Sowing

:

Directly in the garden
Plant spacing

:

20 cm
Depth

:

5 mm
Width

:

15 cm to 30 cm
Height

:

20 cm
Family

:

Plantaginaceae
RETURN AND EXCHANGE
For the return of a purchased product: if you are not satisfied with your product or if you think there is an error in your order, do not hesitate to contact us at any time by email.