Montreal Melon (Cucumis melo)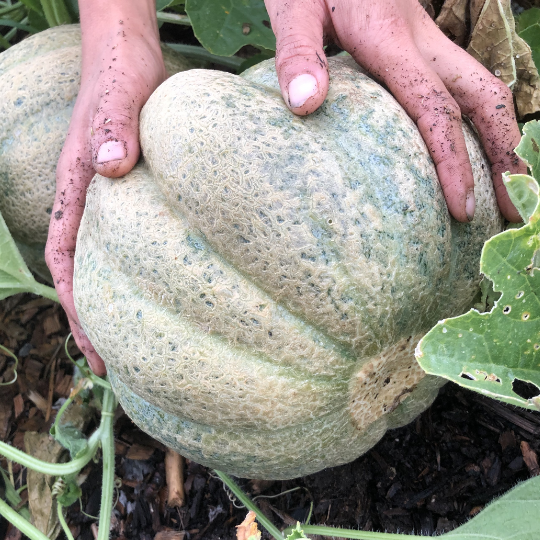 Montreal Melon (Cucumis melo)
Also known by the English name of "Montreal Market Muskmelon", or "Montreal Nutmeg Melon", this melon with green flesh and a slight taste of nutmeg has practically disappeared. The first traces of the Montreal melon come from the Jesuits, who cultivated it in 1684. It enjoyed strong popularity in the early 1900s and until the 1950s, when galloping urbanization, the lack of succession and the high cost of labor signed its death warrant. It was cultivated by three families, the Aubins, the Décaries and the Gormans. According to the Potager d'antan, the melon was meticulously selected from the middle of the 17th century before being stabilized in 1870 under the name Melon de Montréal. In the 1880s, the American seed merchant wrote in his catalog that he was one of the biggest sellers throughout New England. In short, it was forgotten when the farms disappeared from the Island of Montreal, before being found by a journalist in a gene bank in the United States. Here it is now, smaller than it was in the original photos, but with the same great taste! Please note that if you wish to save your own seeds, you must ensure that no other variety of melon grows at a kilometer around, otherwise you will have to pollinate it by hand.

MAINTENANCE AND OTHER CONSIDERATIONS
Cultivation of the Montreal Melon is difficult. It requires rich soil, abundant watering and heat. The maturity of the melon is difficult to establish and, once picked, it keeps for a very short time. However, it is delicious!
Plant type

:

Annual
Quantity

:

Envelope of about 10 seeds
Exposure

:

Full sun
Shape

:

Crawling
Soil

:

Rich
Watering

:

Abundant
Sowing

:

Inside
Plantation

:

In the garden after the risk of frost
Days to maturity

:

75 to 85 days
Germination

:

5 to 10 days
Plant spacing

:

75 cm
Row spacing

:

1 m
Depth

:

1,5 cm
Height

:

30 cm to 40 cm
Color

:

Green
RETURN AND EXCHANGE
For the return of a purchased product: if you are not satisfied with your product or if you think there is an error in your order, do not hesitate to contact us at any time by email.