Rat's Tail Radish (Raphanus sativus var. caudatus)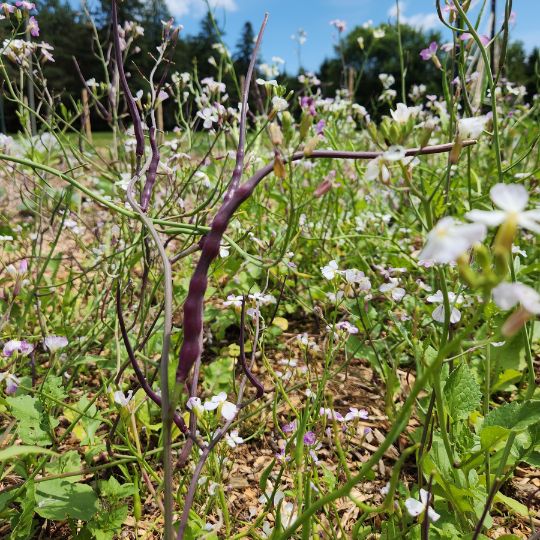 Rat's Tail Radish (Raphanus sativus var. caudatus)
Also called "Snake radish", this radish is a very old variety originating from Indonesia. It does not develop a root, but is eaten by... the tail! It is actually the aerial pods that are edible and look like rat tails. Tender and tasty (pods, not rat tails!), slightly spicy, they can be eaten raw, cooked or marinated.

BOTANICAL INFORMATION
Latin name: Raphanus sativus var. caudatus
Common names: Snake radish
English: Rat-tail
Family: Brassicaceae

MAINTENANCE AND OTHER CONSIDERATIONS
Radish is usually a cold climate crop and is best planted in the spring. On the other hand, the Rattail radish likes to be planted early, but loves the heat. It will flower when the hot weather arrives in August!
Plant type

:

Annual
Quantity

:

Envelope of about 50 seeds
Exposure

:

Full sun
Shape

:

Shrub
Watering

:

Tolerates drought
Sowing

:

Directly in the garden
Plantation

:

In warmed ground
Days to maturity

:

50 days
Germination

:

5 to 10 days
Plant spacing

:

45 cm
Depth

:

1 cm
Width

:

40 cm to 70 cm
Height

:

1,5 m
Color

:

Green
Family

:

Brassicaceae
RETURN AND EXCHANGE
For the return of a purchased product: if you are not satisfied with your product or if you think there is an error in your order, do not hesitate to contact us at any time by email.