Rocquencourt Butter Bean (Phaseolus vulgaris var. nana 'Beurre de Rocquencourt)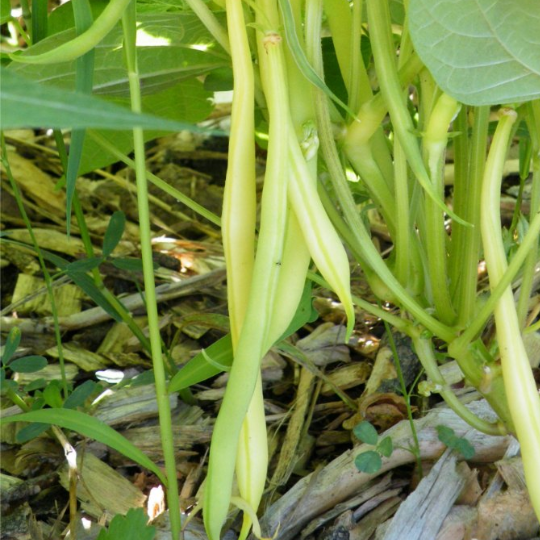 Rocquencourt Butter Bean (Phaseolus vulgaris var. nana 'Beurre de Rocquencourt)
Golden yellow bean with long, thin pods. Very good productivity and stability. Originally from France and previously from Algeria. The more you pick, the more it produces, over a long period of time. Its advantage lies in the ability of its pods to remain tender for several days on the plant. So advantageous for traveling gardeners or market gardeners too busy to pick their beans every day. The seeds are elongated, deep black. One of the tastiest in our collection. Beans of this type were introduced to France around the 1840s under the name Haricot d'Alger, because they supposedly originated in Algeria. From this genetic pool of black-seed beans, the French developed other varieties including butters from Rocquencourt, a town near Versailles.

Avoid handling or removing weeds when the beans are wet to avoid the proliferation of diseases. With us, it is very resistant to diseases and very little watered, since it is mulched throughout the summer. When the seedlings have started to sprout, ensure that the plants do not lack water until the first true leaves appear.

Plant type

:

Annual
Quantity

:

Envelope of about 35 seeds
Exposure

:

Full sun
Shape

:

Herbaceous
Soil

:

All types of soils
Watering

:

Regular
Sowing

:

Directly in the garden
Days to maturity

:

50 to 60 days
Germination

:

5 to 10 days
Plant spacing

:

8 cm
Row spacing

:

30 cm to 35 cm
Depth

:

2 cm to 3 cm
Width

:

20 cm
Height

:

40 cm
Color

:

Yellow
Family

:

Fabaceae
RETURN AND EXCHANGE
For the return of a purchased product: if you are not satisfied with your product or if you think there is an error in your order, do not hesitate to contact us at any time by email.