Gooseberry tomato (Solanum pimpinellifolium)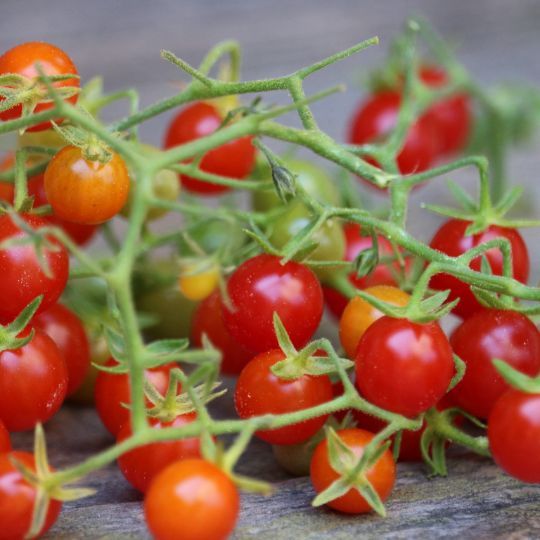 Gooseberry tomato (Solanum pimpinellifolium)
The smallest tomato you've ever eaten. The gooseberry tomato is actually a cousin of the common tomato, native to South America. The plant produces clusters of several small, sweet fruits. The seeds you hold in your hands, however, have a particular origin… Léon was a gruff gardener who did not like children. Cigarette in mouth, he chased them out of hand when they got too close to the plot he was cultivating in a community garden in Montreal. But they only had it for his tomatoes, which shone in the sun like sweet little rubies. In fact, Léon didn't like many people... but we loved his tomatoes so much! So one full moon night (really!), I snuck into the garden, and stole some seeds from it. I've been growing it ever since and my kids love it!

BOTANICAL INFORMATION
Latin name: Solanum pimpinellifolium
Common name(s): Currant tomato
English: Currant tomato
Family: Solanaceae

MAINTENANCE AND OTHER CONSIDERATIONS
Gradually acclimate to outdoor conditions about 10 days before planting by taking them out during the day. When planting, lay the plants horizontally, slightly arching the plant to bring out the leaves upwards.
Plant type

:

Annual
Quantity

:

Envelope of about 35 seeds
Exposure

:

Full sun
Shape

:

Bushy
Soil

:

Well drained
Watering

:

In dry weather
Sowing

:

Inside
Plantation

:

In the garden after the risk of frost
Days to maturity

:

75 to 90 days
Germination

:

7 to 10 days
Plant spacing

:

45 cm
Row spacing

:

70 cm
Depth

:

5 mm
Width

:

45 cm
Height

:

1,4 m
Type of growth

:

Indeterminate growth
Color

:

Red
Family

:

Solanaceae
Characteristic

:

Productive
RETURN AND EXCHANGE
For the return of a purchased product: if you are not satisfied with your product or if you think there is an error in your order, do not hesitate to contact us at any time by email.