Asparagus (Asparagus officinalis)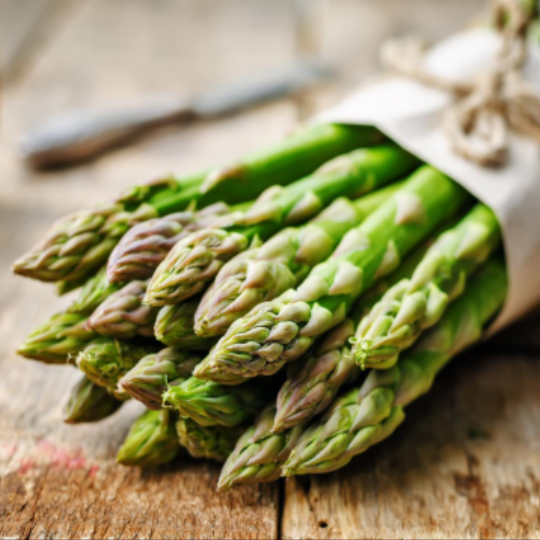 Asparagus (Asparagus officinalis)
Probably native to the Mediterranean basin, asparagus was first eaten – most often in the wild – among the Egyptians and Greeks. It was the Romans, later, who developed its culture, but this vegetable then remained reserved for wealthy gourmets. Asparagus plants are usually bought off the shelf when they are one or two years old, often male plants. We sell seeds because the diversity is greater from sexual reproduction than from cloning. You can start picking your asparagus three years after planting seeds.

BOTANICAL INFORMATION
Latin name: Asparagus officinalis
Common name: Asparagus
English: Aspargus
Family: Asparagaceae

MAINTENANCE AND OTHER CONSIDERATIONS
It is also possible to do this way too. Space them 10 cm apart on rows 45 cm apart. The second year, harvest the claws and place them in their final location, space them 45 cm apart in rows 1.25 m apart. HARVEST You will begin your harvest in the third year. This plant has a life expectancy of 8 to 20 year.
Plant type

:

Perennial
Quantity

:

Envelope of about 20 seeds
Exposure

:

Full sun
Shape

:

Erected
Soil

:

Well drained
Watering

:

Regular
Plantation

:

Directly in the garden
Days to maturity

:

3 to 5 years
Plant spacing

:

75 cm
Row spacing

:

1,25 m
Depth

:

0.5 cm
Width

:

20 cm to 30 cm
Height

:

2 m
Color

:

Green
Family

:

Asparagaceae
RETURN AND EXCHANGE
For the return of a purchased product: if you are not satisfied with your product or if you think there is an error in your order, do not hesitate to contact us at any time by email.