Canada Crookneck Squash (Cucurbita moschata)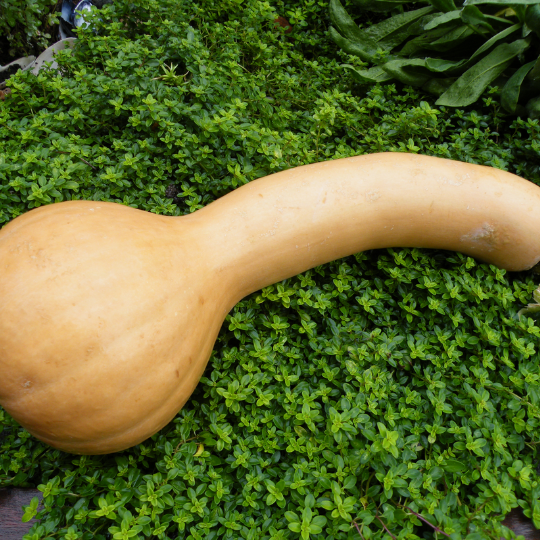 Canada Crookneck Squash (Cucurbita moschata)
C. moschataVery popular in the last century, this winter squash has practically disappeared in favor of more standardized and high-performance varieties. No doubt her elongated shape and twisted neck made her undesirable in the age of industrial trade and transport. It is moreover to meet the new market criteria that we would have developed, from the Canada Crookneck, the Butternut variety. The Canada Crookneck is however delicious. She is listed on the Slow Food Ark of Taste. Excellent in soup, it will be exquisite transformed into fries. It is so sweet that it can replace sweet potatoes in all your recipes.;In recent years, it has reappeared among small seed companies. At Terre Promise, we want to preserve it, cultivate it and share it for many years to come!

MAINTENANCE AND OTHER CONSIDERATIONS
Perfect for the culture of the three sisters. Be careful, squash and pumpkins do not like having disturbed roots. If you are seedling indoors, transplant gently. For this reason, we prefer to sow directly in the garden.
Plant type

:

Annual
Quantity

:

Envelope of about 12 seeds
Exposure

:

Full sun
Shape

:

Crawling
Soil

:

Rich
Watering

:

Regular
Sowing

:

Directly in the garden
Plantation

:

In the garden after the risk of frost
Days to maturity

:

100 days
Germination

:

5 to 15 days
Plant spacing

:

90 cm
Depth

:

2 cm
Height

:

20 cm to 30 cm
Color

:

Yellow
Family

:

Cucurbits
RETURN AND EXCHANGE
For the return of a purchased product: if you are not satisfied with your product or if you think there is an error in your order, do not hesitate to contact us at any time by email.