Cocozelle squash (Cucurbita pepo)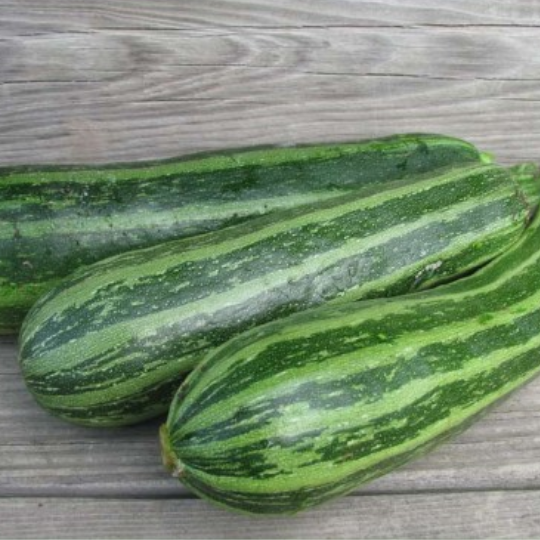 Cocozelle squash (Cucurbita pepo)
Courgette Cocozelle;Cucurbita pepo;50-60 days to maturity.;Appreciated by gardeners, who have been growing it for a long time, this ancient variety comes to us from Naples, hence its name Cocozella di Napoli.;Bushy type, it produces fruit tasty in quantity. To stimulate fruiting, be sure to harvest young zucchini. This will extend the harvest season and you will be feasting on little zucchini.;When ripe, this zucchini is 30cm in length. It is at its best if harvested when it measures between 15 and 20 cm. The dark green fruits are streaked with light green. The flesh is a delicate color between white and green.;Succulent cooked, fried, steamed or stored in the freezer.;Italian heritage variety.

BOTANICAL INFORMATION
Latin name: Cucurbita pepo
Common names: Zucchini, zucchini
English: Zucchini, zucchini
Family: Cucurbitaceae

MAINTENANCE AND OTHER CONSIDERATIONS:
Harvest regularly throughout the season to boost production.
Plant type

:

Annual
Quantity

:

Envelope of about 15 seeds
Exposure

:

Full sun
Shape

:

Bushy
Soil

:

Rich
Watering

:

Regular
Sowing

:

Inside
Plantation

:

In the garden after the risk of frost
Days to maturity

:

50 to 60 days
Germination

:

5 to 10 days
Plant spacing

:

1 m
Row spacing

:

1 m
Depth

:

2 cm
Width

:

1 m
Height

:

45 cm
Color

:

Green
Family

:

Cucurbits
RETURN AND EXCHANGE
For the return of a purchased product: if you are not satisfied with your product or if you think there is an error in your order, do not hesitate to contact us at any time by email.