Large Orange Tomato (Solanum lycopersicum)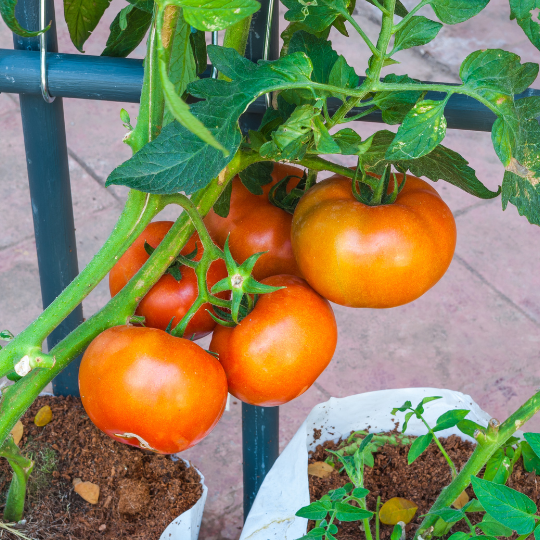 Large Orange Tomato (Solanum lycopersicum)
Large tomato with orange flesh, very productive and tasty. This variety was given to us by René Paquet. With a bright color and smooth skin, it is excellent in sandwiches or cooked. Don't crack. Not to be confused with the ''Big Orange'' from the United States which is ribbed. This tomato arrived in Quebec through the Catalog des Semences du Patrimoine. It would be a member who received it from a certain Norbert Parreira, from France. He then offered it in the catalog and the members exchanged it... until 2005 when it disappeared. It is Mr. René Paquet, a passionate member then decides in 2019 to re-post it and share it with us.

BOTANICAL INFORMATION
Latin name: Solanum lycopersicum
Common name: Large Orange Tomato
English: Big Orange Tomato
Family: Solanaceae

MAINTENANCE AND OTHER CONSIDERATIONS
Gradually acclimatize to outdoor conditions about 10 days before planting by taking them out during the day. When planting, lay the plants horizontally, arching them slightly to bring out the leaves upwards.
Plant type

:

Annual
Quantity

:

Envelope of about 30 seeds
Exposure

:

Full sun
Soil

:

Well drained
Watering

:

In dry weather
Plantation

:

In the garden after the risk of frost
Days to maturity

:

90 to 95 days
Plant spacing

:

45 cm
Row spacing

:

70 cm
Width

:

45 cm with tutor or 60 cm if left on the ground
Height

:

1 m
Type of growth

:

Indeterminate growth
Color

:

Orange
Family

:

Solanaceae
Characteristic

:

Big
RETURN AND EXCHANGE
For the return of a purchased product: if you are not satisfied with your product or if you think there is an error in your order, do not hesitate to contact us at any time by email.