Tomato Quebec #13 (Lycopersicon esculentum "Quebec #13")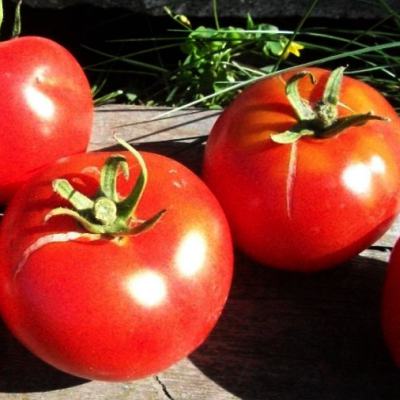 Tomato Quebec #13 (Lycopersicon esculentum "Quebec #13")
This tomato variety was developed in the early 1950s by geneticist Professor Joseph-O Vandal. He worked at Laval University for more than 30 years and he is the father of several horticultural varieties that are resistant in our climate. The vigorous plant produces very early, medium-sized dark red fruits. This exceptionally tasty tomato has far fewer seeds than the conventional tomato and has a very thin skin that peels well. It should be eaten within a few days of harvest because it does not keep as long as store-bought tomatoes.

BOTANICAL INFORMATION
Latin name: Lycopersicon esculentum "Quebec #13"
Common name: Quebec Tomato #13
English: Quebec #13 Tomato
Family: Solanaceae

MAINTENANCE AND OTHER CONSIDERATIONS
Gradually acclimatize to outdoor conditions about 10 days before planting by taking them out during the day. When planting, lay the plants horizontally, arching them slightly to bring out the leaves upwards.
Plant type

:

Annual
Quantity

:

Envelope of about 30 seeds
Exposure

:

Full sun
Shape

:

Herbaceous
Soil

:

Well drained
Watering

:

In dry weather
Plantation

:

In the garden after the risk of frost
Days to maturity

:

70 days
Germination

:

7 to 10 days
Plant spacing

:

45 cm
Row spacing

:

70 cm
Depth

:

5 mm
Width

:

45 cm
Height

:

1 m
Type of growth

:

Indeterminate growth
Color

:

Red
Family

:

Solanaceae
RETURN AND EXCHANGE
For the return of a purchased product: if you are not satisfied with your product or if you think there is an error in your order, do not hesitate to contact us at any time by email.